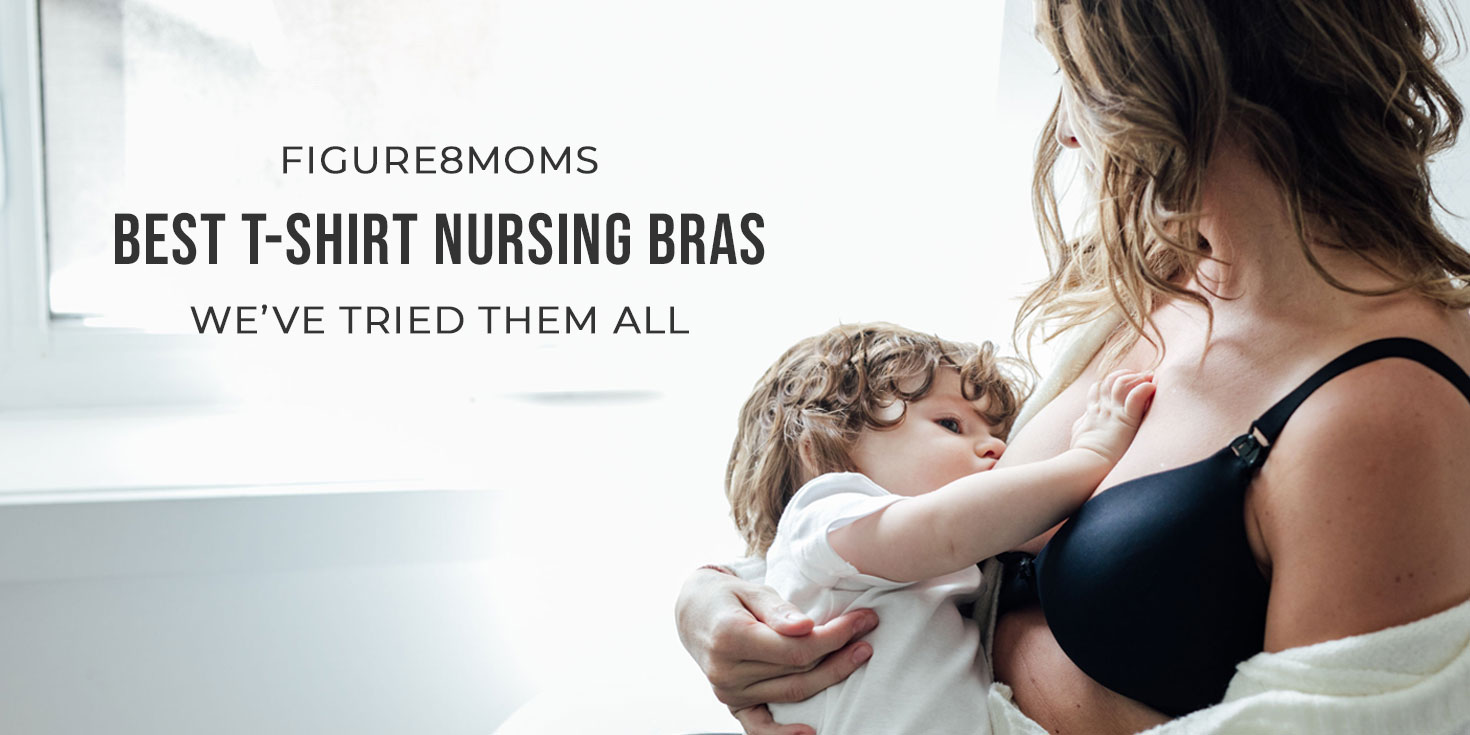 Best T-Shirt Nursing Bras 2021
The best nursing bras to wear beyond the newborn stage
Congratulations! You are past the newborn stage now, and you and baby have gotten into a rhythm. You are going out more and getting comfortable with nursing on-the-go. This is a great time to expand your nursing bra options and add more structured nursing bras to your wardrobe. Whether you're returning to work, attending a special occasion, or looking for more style options, we've selected the best t-shirt nursing bras and underwire nursing bras here.
Shop for traditionally-sized (eg. 36B, 38C, etc.) nursing bras when your size stabilizes
Your breast size will stabilize at around the 3 rd or 4 th month of nursing. There will still be fluctuation in the fullness of your breasts before and after feeds, but the significant changes in size will have already occurred. This is the best time to start shopping for more structured styles such as underwire nursing bras and molded cup t-shirt nursing bras. These nursing bras are a lot more like your pre-pregnancy bras.
What should I look for in a great t-shirt nursing bra?
A smooth silhouette is the very definition of a t-shirt bra. It should mold to your body and practically disappear under your clothing.
Coverage. There is more need for coverage now that in your pre-pregnancy days. Lactation causes nipples to enlarge and darken. Nursing pads, no matter how low-profile, tend to show through unlined bras.
Flexible cups provide easy nursing access. The best t-shirt nursing bras use premium materials like spacer foam. The result is a highly flexible cup that holds its shape and provides a sleek silhouette without bulk.
Structured support gives you more lift. T-shirt nursing bras can have underwire support or be wirefree.
Which is better - underwire or wireless?
It really comes down to personal preference and the degree of support you require. Lactation consultants caution against underwire nursing bras that constrict milk ducts and obstruct milkflow. However, poor support can result in the same complications. The key here is to go for good, lactation-friendly support.
What makes a good underwire nursing bra?
Lactation consultants are cautious about recommending underwire nursing bras because poorly designed and ill-fitting underwire bras can constrict breast tissue and prevent milk from flowing well. They can contribute to painful breastfeeding complications such as blocked ducts and mastitis.
Well-made, comfortable underwire nursing bras can be a real asset to your nursing wardrobe to bring additional support, separation, shape and lift.
Look for flexible underwires that move with your body. Avoid underwires that are rigid or pinch.
Listen to your body. Forget your pre-pregnancy days when you could put up with an uncomfortable bra. If the bra doesn't feel good on, it's definitely not for you. The underwire should sit flush against your body and encircle your breast. It should not go below or over your breast. The band should fit snug around your chest with enough give for you to slip two fingers under. It should not ride up.
The Best Underwire Nursing Bras & T-Shirt Nursing Bras 2021