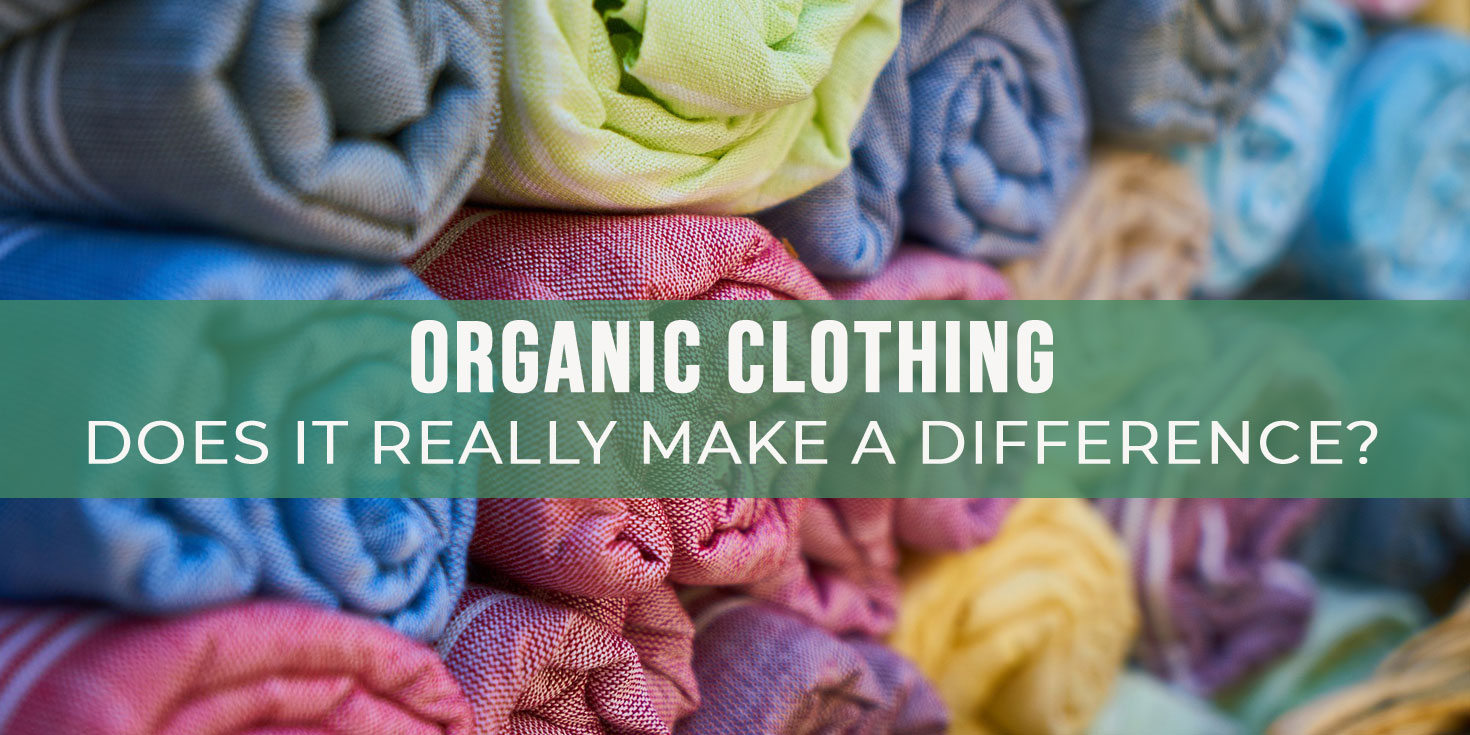 Organic Clothing – Does it really make a difference?
Every garment has a story. From field to factory to fashion outlet, the making of conventional clothing is a chemically-intense story that is rarely ever told. Labels tell you a garment's fiber content and where it was made, but not much else. Manufacturers are not required to disclose the process or any of the chemicals used, so consumers are left largely in the dark about how their clothing is made.
The reality is, safety standards of textile production around the world varies widely from country to country. The materials that make their way into the clothing that we commonly find in stores today come from some of the most loosely-regulated countries in the world. With fast-fashion and direct- export sellers peddling garments at nearly disposable prices, it's a safe bet we all have garments that have been through pretty shady processes lurking in our drawers.
What you don't find in organic cotton and OEKO-TEX Standard 100 certified clothing that is common in conventional textiles:

Synthetic fertilizers and pesticides - known to be carcinogenic
NPEs - (Nonylphenol ethoxylates) known to cause reproductive and developmental harm
Azo dyes - one of the most common conventional dyes which are known to be carcinogenic
Formaldehyde – skin, eye and respiratory irritant known to be carcinogenic
Phthalates – known to damage the liver, kidneys, lungs and to cause reproductive and developmental harm
Heavy Metals (Lead, cadmium, mercury & chromium) found in conventional dyes cause developmental damage and are known to be carcinogenic
If chemicals in clothing were such a big concern, wouldn't there be laws against them?
In many cases, legislation simply hasn't caught up with our growing awareness of the damage industrial chemicals are wreaking on our bodies and our environment. Take Phthalates for example – a ubiquitous group of chemicals now notorious for being a hormone-disruptor damaging to our liver, kidneys, lungs and reproductive systems. The states of California and Washington have banned the use of Phthalates in children's toys, but laws have yet to be passed to block its use in children's clothing or bedding.
Can't I just wash new clothing to get rid of any harmful chemical residues that might be in it?
Yes and no. Washing reduces the amount of water-soluble chemicals such as formaldehyde in textiles, so it is definitely a smart practice to wash new clothing before wearing it. However, there are many chemicals that go into the production of conventional clothing that ordinary washing cannot remove - think dyes, anti-wrinkle agents, flame-retardants, and anti-microbial treatments. Many of these were designed to be rain and wash resistant. Tests have shown that even the pesticides used in the growing of cotton fibers remain in the finished product and cannot be washed out in a home washing machine.
I try to eat all-natural and organic, but isn't dressing organic going overboard?
With growing research being done in on chemical absorption through skin exposure, it's becoming increasingly apparent that what we put on the outside of our bodies is almost as significant as what goes in. Skin the largest organ of our body. It is highly permeable and absorbs many of the substances that it is exposed to. One study published in the American Journal of Public Health that looked at the role of skin in the body's absorption of chemicals from water found that skin absorbed a stunning 64% of the test chemicals!
If I can't buy everything organic what choices can I make that will make the most impact?
Give priority to clothing that comes in direct contact with your skin and direct contact with baby. Choose organic or OEKO-TEX Standard 100 (free from harmful chemicals) certified nursing bras and underwear. Organic nursing clothing makes particular sense because not only are you protecting yourself from harmful chemicals, but with all the contact that comes from breastfeeding, you are protecting your baby from rubbing up against questionable fabrics.
How do I know that organic clothing really is what it claims to be?
Our store identifies products with the following certifications to help you make informed choices:
GOTS (Global Organic Textile Standard) is the gold standard for testing organic clothing. GOTS certified organic clothing has undergone the industry's most stringent regulation process. Organic clothing that has received the GOTS label is not only made with organic fiber. Every part of the production process from cultivation to the end product has been verified to comply with the high ecological and fair labor standards of GOTS. Watch this video that explains GOTS.
OEKO-TEX Standard 100 certifies that textiles have not been processed with harmful chemicals and every part of the finished product is free from 100 substances known to be harmful to human health. This standard covers both organic and non-organic textiles.
USDA Organic ensures that clothing advertised as is made with organic fibers. However, it does not regulate the manufacturing processes that the fibers undergo to become clothing.
What are the benefits of organic nursing clothing?
Breastfeeding places special demands on moms and the clothes we wear. Besides offering all the general benefits of organic clothing, organic nursing clothing is designed to allow you to feed your baby in comfort. Boobs can get pretty sore when you are just starting out. Where it may not have mattered in the past, you'll now find that the softest, most soothing fabric makes all the difference.
Consider also that newborns are nursed 8-16 times a day. If each feed lasts a half hour, baby will spend 4-8 hours a day nestled up against you, and that's not taking into account burping and cuddle time. The fact is, baby might spend more time up against you than anywhere else. What you wear is what baby is rubbing up against, and baby skin is extremely sensitive to harsh fabrics, dyes and chemical rub off. If your baby suffers from rashes, contact dermatitis, or eczema, pay close attention to what comes in contact with baby's skin.
The same can be said for organic nursing bras. Organic nursing bras offer the highest level of comfort, breathability and peace of mind.
What are the best brands to shop for organic and OEKO-TEX Standard 100 products?
We've searched the world for the best organic and chemical-free products for mom and baby.
For moms:
Boob Design: Our bestselling brand of organic maternity and nursing clothing, from Sweden
GOTS Certified Organic
OEKO-TEX Standard 100 Certified Free from Toxic Substances
Bravado Designs: Our bestselling nursing bra brand, from Canada
OEKO-TEX Standard 100 Certified Free from Toxic Substances
Cache Coeur Lingerie: Maternity and nursing lingerie from France
OEKO-TEX Standard 100 Certified Free from Toxic Substances
Carriwell: Maternity and nursing lingerie and accessories from Denmark
OEKO-TEX Standard 100 Certified Free from Toxic Substances
Love Milk: Maternity and nursing clothing, from Sweden
GOTS Certified Organic
OEKO-TEX Standard 100 Certified Free from Toxic Substances
Majamas: Bestselling sleep bras made in USA
USDA Organic

Baby
Baby K'tan: Award winning baby wraps and carrier. Look for organic styles
GOTS Certified Organic

Finn + Emma: Organic baby clothing and toys
GOTS Certified Organic

Magnetic Me: Bestselling magnetic closure baby footies and clothing. Look for organic styles
GOTS Certified Organic

Under the Nile: Organic baby clothing, bedding and toys
GOTS Certified Organic
USDA Organic

ZippyJamz: Organic baby footies with easy diaper change feature
GOTS Certified Organic

Personal Care Products
Mambino: Organic and natural personal care products for mom and baby
USDA Organic

Motherlove: Organic and natural personal care products for mom and baby
USDA Organic