Shrinkx Hips Ultra Postpartum Hip Compression Belt
Nude
This product is sold out. Please browse our other collections below.
If you'd like to lose inches around your hips, quick, now's your chance! Shrinkx Hips Ultra postpartum hip wrap helps to narrow your hips while the hormone relaxin is still active in your body and pelvic joints are still soft and malleable.* Relaxin stays in the body for 8 weeks postpartum, giving you a golden opportunity to shrink your hips to pre-pregnancy size … or smaller! Shrinkx Hips is the only postpartum compression wrap clinically proven to narrow hips. In a clinical study, 95% of moms who wore Shrinkx returned to their pre-pregnancy hip size or smaller.

Why Shrinkx Hips?
Patented postpartum hip wrap narrows hips after delivery*
Supports loosened pelvic joints and ligaments*
Clinically shown to guide hips back to their pre-pregnancy position, or smaller*
Triple point compression helps maximize results
OB/GYN recommended
Can be worn 12+ hours per day
BMade of soft Nylon and Spandex

How A Pregnancy Hormone Can Shrink Your Hips After Delivery
The pregnancy hormone relaxin prepares the pelvis for delivery by loosening joints and ligaments. What most women don't know is that you can take advantage of this hormone postpartum to narrow your hips. Relaxin levels remain elevated for up to eight weeks after delivery, keeping pelvic joints soft and malleable. Patented Shrinkx Hips applies gentle compression to the hips, helping to guide them back to their pre-pregnancy position. Shrinkx Hips must be worn in the first 8 weeks after delivery, while relaxin is still present.

*These statements have not been evaluated by the Food and Drug Administration. This product is not intended to diagnose, treat, cure, or prevent any disease.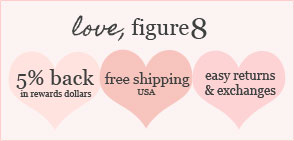 "
I
ordered from nursing clothes and they arrived in one day. When an item didn't fit and I needed to return it, customer service sent out the new items before they'd received my returns. That is great customer service! I'll be back and recommend Figure8 to every mom I know! A.W.
"
Alexis in Dobbs Ferry, NY
Please wait ...