Average Rating:





4.5
/ 5.0 (
11
ratings)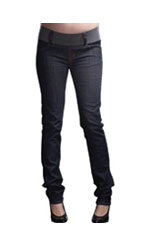 Customer Reviews of Maternal America Skinny Maternity Jeans
This product is rated 4.5 / 5.0 in 11 customer reviews.
---
After months of failed attempts of trying to find jeans that fit comfortably, long enough (I'm 5'11"), and didn't look like saggy behind jeans.. I finally found them! Oh goodness these jeans are absolutely amazing. I didn't know how I would like the thicker band around the belly area but I really don't mind. They feel like REAL jeans...not some ugly maternity jeans. I usually wear a size 6 (so a medium in this case) but I took a few people's suggestions on here and went up a size, to large, and I'm glad I did because I think a medium would have been too tight for me at this point. I love that these have belt loops, did I mention they feel like REAL jeans?! So amazing...I wish they were in additional styles (and not $100).
---
Love these jeans!! they are the best jeans I have bought -- they have belt loops in case you need some help keeping them on, but the band is so good and the cut too that I haven't had that problem (which I have on all my other jeans). I am carrying a little boy & like they all predict -- in front, so my body shape in the legs did not change too much. I love 'em, look good in them! They are too tight now on the lower belly as I go into my 8th month, so not a great 3rd trimester option (but I also did not size up) even though they stretch, and I wish I had gotten them from my 1st trimester, so I would have enjoyed them the whole time. Get these jeans! I will wear them afterwards for sure!
---
Finally! A pair of cute and comfy jeans! I got these at 29 weeks. I am 5'9", pre-pregnancy 140 lbs and a size 6 usually. At 31 weeks I'm now 165 lbs. I bought the large in these skinny jeans and they fit great. Not too tight in the legs and not slouchy in the butt. They are very long and would probably be too long for someone with shorter legs (my regular inseam is 33" and these have a good amount of bunch at the bottom). So psyched to have a go-to pair of jeans again!
---
Love these. Very stylish and comfortable. Also worth noting that they are extremely long. I'm 5'10" and generally wear flats, and I have to cuff them just a bit, otherwise they'd be too long. The demi-band comes up fairly high, so I doubt these will wear throughout my pregnancy, but honestly I'm looking forward to wearing them even post-pregnancy. They look just like regular jeans.
---
I love these jeans! I read a review from a mom saying that she wished she had purchased these earlier on in her pregnancy. I'm almost two months pregnant and none of my jeans fit, so I purchased these. I wear them practically every day! It has been so nice to have a pair of jeans that grow with me, rather than constantly outgrowing my clothes!
---
I love everything about these jeans. The length is great for a tall girl, the fit is flattering, and the waistband works whether I have my 9-month beach-ball-belly or whether I'm not pregnant and have no belly at all. They look great with flats, heels or tucked in to boots. You can't go wrong!
---
I love these jeans! They are the best skinny jeans I've found. They are long (I am 5'8), and, the belt loops are genius! You can actually wear a belt with them. They stay up, and don't fall down, like all of the other Maternity jeans I've tried. I highly suggest these jeans. You will love them!
---
Very cute in dark blue. Pre-pregnant I am a size two but got the medium to make them last to the end. They fit perfect and a small would not have worked. Comfy stretch for the end of the day when I feel bigger. Great buy.
---
These are great maternity jeans. Super comfortable. I am right between sizes though. I ordered a Med and I think I'll grow into them, but right now I'd be a small.
---
These did not fit my body shape. I am 5'10, a bit curvy. They fit great in the waist, hips and length, but these were simply too tight on my thighs. I returned them.
---
These are great! I am on the short side and needed them altered in length, but they fit and wash great. Would buy them over again. Love the dark color.
---
Love the fit and color of these jeans. True to size and super comfy. You don't even feel like you're wearing maternity jeans.
---
very good fit. waistband is comfortable yet pants don't slide down which some of my other maternity pants do.
---
---