Average Rating:





4.7
/ 5.0 (
14
ratings)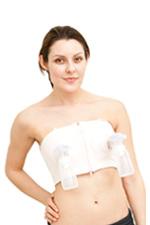 Customer Reviews of Simple Wishes Hands Free Pumping Bustier
This product is rated 4.7 / 5.0 in 14 customer reviews.
---
I ADORE THIS BUSTIER! I can't believe I went a whole month of pumping without it. It frees my hands for reading/texting/giving a bottle/surfing the TV or internet. You wouldn't think 15 minutes is long to sit with no hands but trust me - you will get bored and you will start to turn off the pump early. This bra brought me sanity, allowed me to multitask (feed my daughter at the same time) and helped my milk supply because I stopped unhooking my pump early because of boredom or to tend to my baby. The only reason I gave it 4 instead of 5 stars is because it is hard to get the flanges in and out of the front - I have to put them in through the top and am afraid I'm stretching the elastic doing so.
---
I can't believe I waited 5 months to get this. I pump 3-5 times a day because I work full time and my daughter is in daycare, but still exclusively breastfed -- I can now actually do things while pumping and don't spend hours feeling frustrated because I am just reduced to holding two bottles. An absolute necessarity and it works like a charm -- fully adjustable and sturdy enough to hold two full bottles, soft, comfortable. just perfect.
---
This bustier is a life saver. It allows me to work, eat, or read while I pump. I would have given it five stars, but to make it large enough for my chest it is way too big around to stay put without me tugging on it. It needs to be more contoured for my body type. The two inch removable panel and velcro back are great for sizing, which changes throughout the day when you're nursing.
---
This bra works well. I can't get through my day without it!! I pump almost exclusively, so having my hands free to do other things is critical, especially at work (I'm a special ed teacher). My only complaint is that I'm on the bigger side, and the bra doesn't quite do enough to hold me up while I'm pumping.
---
What a crazy and fabulous invention! I tried cutting up an old bra, but this is SO much nicer. I would recommend to anyone with a breast pump.
---
Got this on a friend's recommendation and it is fantastic! It really makes pumping so much more convenient.
---
This bra is awesome - don't know what I would do without it. It was also a perfect fit!
---
Best thing I could have purchased! I love how it adjusts to your bodies changes
---
A very handy tool! I recommend the busier for any mom who is pumping.
---
---
---
---
---
---