Average Rating:





4.2
/ 5.0 (
5
ratings)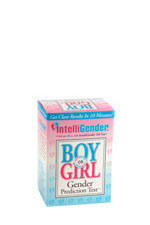 Customer Reviews of IntelliGender: Gender Prediction Test
This product is rated 4.2 / 5.0 in 5 customer reviews.
---
I was delighted with the Intelligender test - it is very easy to use! My result was girl - we'll see in 6 months for sure! Its great fun to have an idea of what I'm having! I won't be buying pink just yet though! This test certainly had taken the impatience out of finding out what sex the baby is!
---
We were anxious to see if we were having a boy or girl. My ob doctor will not do a sonogram to see if its a boy or girl until 22 weeks. I'm 14 weeks and I took the gender test at 12 1/2 weeks and it said it's a BOY. So I'm anxious to see if its correct.
---
the test didn't work correctly for me. looked like a boy result from the boy side and also looked like a girl result from the girl side. i contacted the company directly and was told that they'd send me a new kit. 12 days later, no kit.
---
waiting for an u/s to verify results. :) But it did say we are expecting a girl.
---
It says we are having a BOY!! I can't wait to find out if it is really right!
---
Not sure how accurate, but it says it is girl (orange color).
---
---
---