Average Rating:





4.6
/ 5.0 (
10
ratings)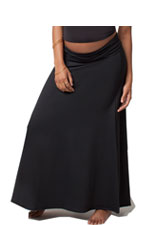 Customer Reviews of Ingrid & Isabel Everywear Skirt
This product is rated 4.6 / 5.0 in 10 customer reviews.
---
This skirt gets 3 points for concept but that's it - I was so excited to see this skirt as I have a Bella Band & wear it EVERY DAY with EVERY SKIRT for coverage as I carry very oddly and no skirt/shirt every covers my entire bump towards the end of pregnancy. I was dreaming of a skirt that would combine my trusty bella band with the skirt so that I could wear one less layer around my midsection. The problem is that this skirt/band is knit in a much tighter elastic than the band, and I could barely get it over my thighs, let alone over my belly! I tried the size that I wear in the bella band, and then went up to the largest size (3/4) but to no avail. Surely I am not the largest pregnant woman to ever have lived, but it sure felt that way :-( Perhaps the description could include the disclaimer that the waistband on this skirt IS NOT equivalent to a regular bella band from the same company. .
---
I absolutely adore this skirt! It is made of a quality, thick material that flatters. The adjustable waistband has been great for a bit of postpartum tummy control, but I would probably have considered sizing up or just using it solely as underbelly support if pregnant (Tight waistbands make me feel ill when expecting). I also like that the length is a bit adjustable too! Definitely would buy again! :)
---
I liked and chose this skirt because I was looking for something very simple and versitle. To be honest, I haven't worn it yet because I think that it might overpower me a bit with the length (I'm 5' 2") and I haven't quite found the right top to wear it with without feeling too "covered" given that it's winter time.
---
The skirt is beautiful. Only con would be that the band is not as stretchy as a bella band, it fits a little tight.
---
Really nice skirt that is wearable in most seasons and that can be dressed up or dressed down.
---
Great support, nice length, exceptional fabric. Great value for the money
---
This is an awesome skirt! I highly recommend! It fits great.
---
fit is exactly right as the sizing chart! Love this item
---
This skirt is absolutely amazing!!! It is a must have
---
---
---
---