figure8moms blog
A BIG SISTER IS BORN: PREPARING YOUNG SIBLINGS FOR A BIG NEW ROLE
If you are reading this post, chances are you are expecting your second (or third, or fourth) baby – congratulations! When we had our second daughter, our oldest was only 17 months old. There wasn't really all that much "preparing" that happened in the months before little sister arrived, because big sister was only 8 months old when we found out we were pregnant again. As far as sibling adjustment goes, the transition was actually relatively smooth for us. It was as if our oldest just assumed this was the way things were supposed to be. She mostly just rolled with it, and we noticed very little jealousy. But as we look forward to the arrival of our third child (a little brother!), our big girls are now 4 and 6 years old and the excitement is real! We have had a lot of fun cultivating and encouraging that enthusiasm. If you're looking for some fun ideas for your preschool and elementary aged older siblings, keep reading!
Weekly Baby Size Updates
Since my girls can't physically see their baby brother grow, I wanted them to have a tangible example of how big he is with each passing week. We told the girls about our pregnancy pretty early on, and so our first "big reveal" was when baby was the size of a blueberry at 7 weeks old. The "surprise baby size" activity as they call it was a HUGE hit, and we've done it every week since! It takes very little planning and costs just a couple of dollars a week or less to pull off. We mostly use the fruit and veggie suggestions from The Bump, but you can find lots of options to fit your interests and budget with a quick Google search.
This is our routine:
We sit the girls next to each other and ask them, "how old is baby this week?" We then ask them to guess how big the baby is. (The size of an apple! or – A a pickle!... etc.) We then tell them to close their eyes and put the produce item in their hands and have them open their eyes. As a bonus, it's been a fun way for us to learn about different fruits and veggies that we wouldn't otherwise buy, like coconuts! We will often also mix in a fun related activity that week, like learning how to take the seeds out of a pomegranate (a great sensory activity for preschoolers), or making homemade lemonade out of lemons. I've been sharing videos of our weekly size updates on my Instagram (@marebearmom) – you can find them in the "Baby #3" highlight reel!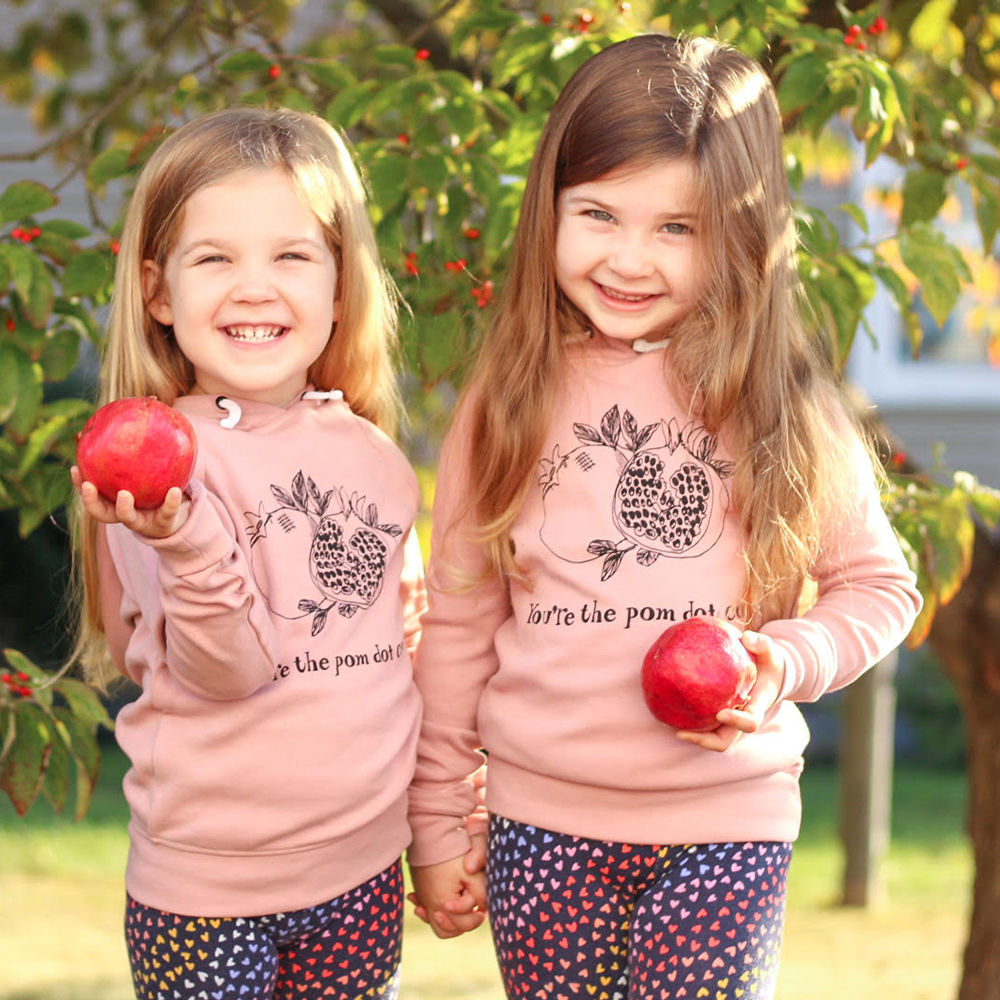 Picture Books
In our house we love reading, and there are so many good picture books about pregnancy and becoming a big sister or brother! I'm listing some that we've enjoyed here, but you'll find countless lists on Pinterest that might better suit your family. Since my girls are naturally curious about human anatomy, I focused my search on books that talked about baby's development, but the big sibling book options are endless! Make sure to take advantage of what your local library has to offer.
Here are some of our favorites:
"Mr. Fuzzbuster Knows He's the Favorite" by Stacy McAnulty
Much of my list is "big sister" heavy since I have two girls – but this is a great book for sisters and brothers alike. Mr. Fuzzbuster is a cat that is his owner Lily's favorite pet… or is he? It's a cute and fun story that helps big kids understand that they won't be replaced with a new family favorite when baby arrives.
"Lola Reads to Leo" by Anna McQuinn
Okay, this book is just too cute! Since my daughters are bookworms, I thought this title would resonate with them, and it didn't disappoint. It starts with Big Sister Lola preparing for the arrival of her baby brother by helping her Dad build bookshelves and picking out books for the baby, then reading books to him once he arrives. It honestly shares that babies cry and sleep a lot – but reading potty books and bath books and bedtime books to her baby brother turns out to be a way that she can bond with him, especially since she loves being read to so much herself.
"Mama's Belly" by Kate Hosford
I like this sweet and simple story because I feel like it was one we all could relate to. With lines like, "Mama's belly is making her grumpy" and "Mama is too tired to play with me" – it does a great job of being both realistic but still positive and hopeful. I also enjoyed the big playful font and bright pictures.
"Nine Months: Before a Baby is Born" by Miranda Paul
I accidentally came across this book that was on display at our local library, and the illustrations are beautiful! The text is also in a simple and sweet poetic format. My girls loved flipping through this one!
"How Big is Our Baby?" from Usborne Books
We haven't actually read this one (yet!), but it would be a fun compliment to the baby size updates! We're big fans of Usborne books, and so I can imagine we'd love this one as much as our others. It addresses emotions that big siblings might have as well as giving month-by-month size comparisons to explain baby's growth.
"Little Miss Big Sis" by Peter Reynolds
Peter Reynolds is one of our favorite authors, and this book didn't disappoint. It has short sentences and a rhyming format that is totally catchy, so your big siblings will likely request to read this one with you often!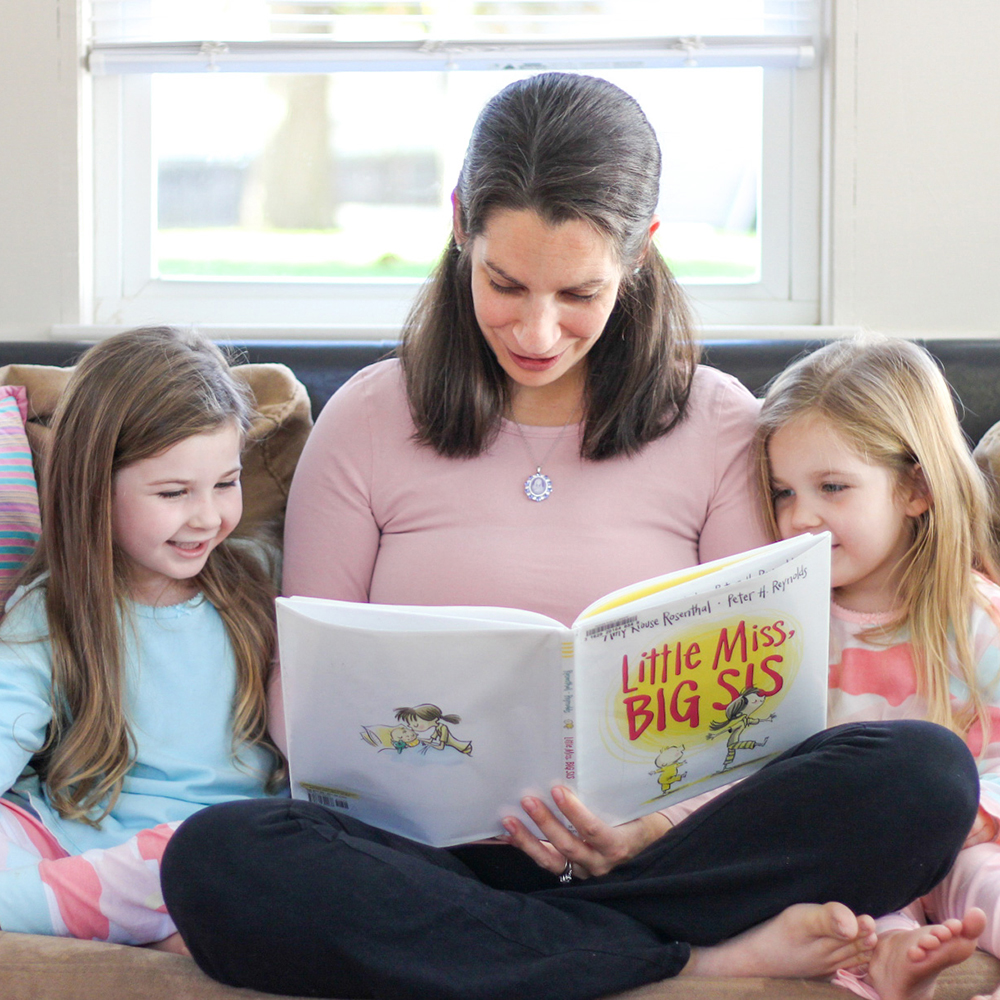 Shop for Baby Clothes Together!
It's hard to say who is fonder of twinning – me or my girls! And so they jumped at the opportunity to help me pick out some new clothes for their baby brother, especially when I told them that we could get some coordinating patterns and styles.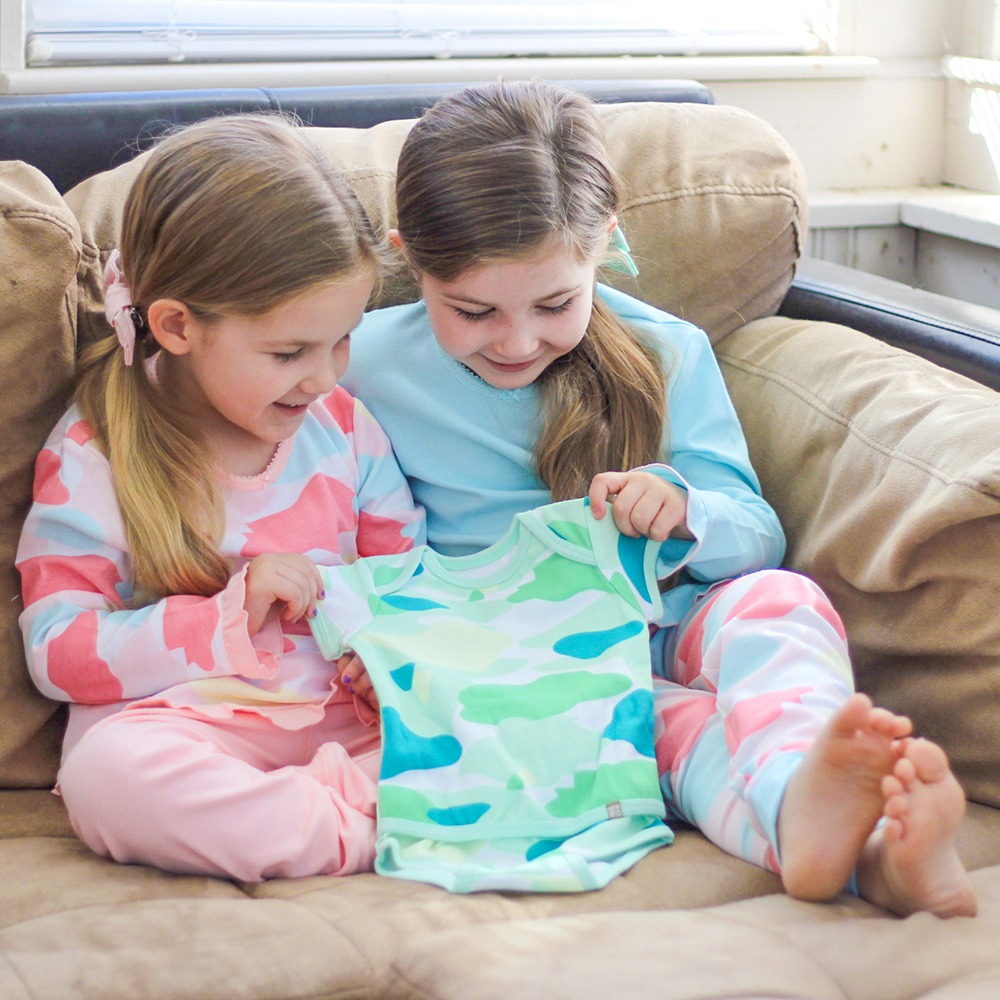 OETEO
has so many fun matching patterns to choose from for siblings, including these pink and green "army daze" outfits. The
baby onesies
feature no zips, snaps or buttons for easy diaper changing. They look so easy to get on and off that I think it will make it possible for my girls to get involved in diaper and clothes changes, which is something they have been really excited to do. The coordinating
big sister jammies
are a great deal for a 4 piece set. Both styles are made of super soft and high quality cotton that is OEKO-TEX Standard 100 certified, which means that they have independently tested safe from harmful chemicals.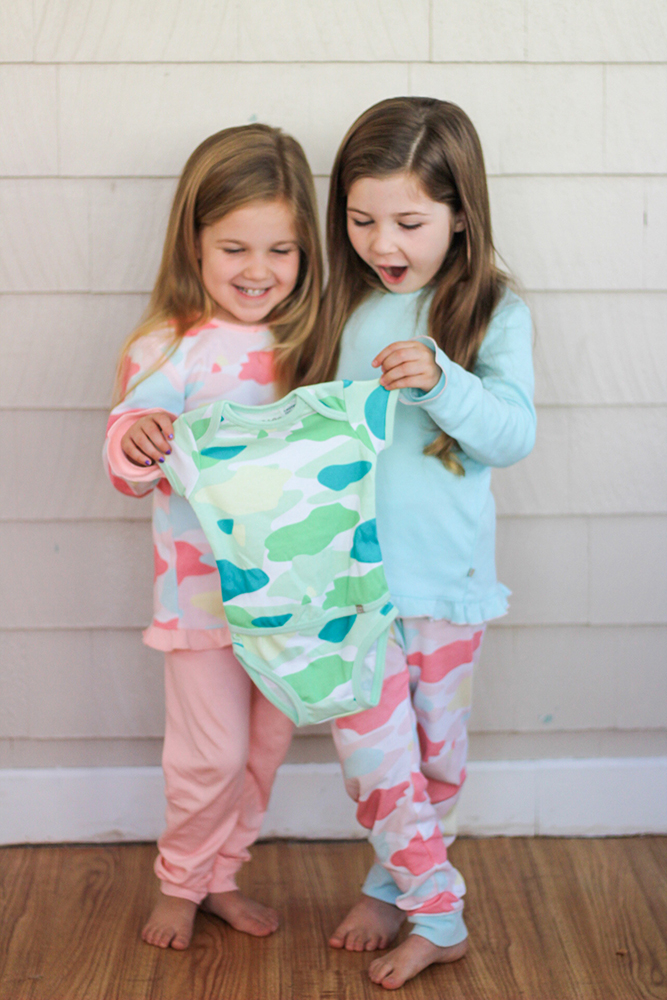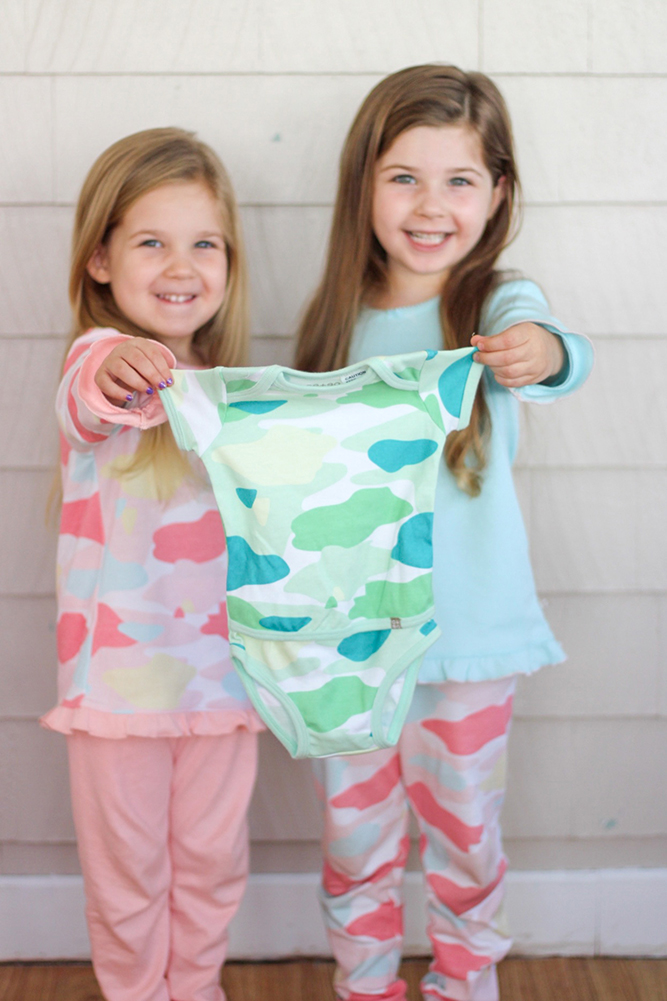 An added bonus: the
onesies
, shown below, are g-tube friendly! This is something that is near and dear to my heart since I have friends with babies that have g-tubes, and so I know what a game changer adaptive (and affordable!) clothing can be.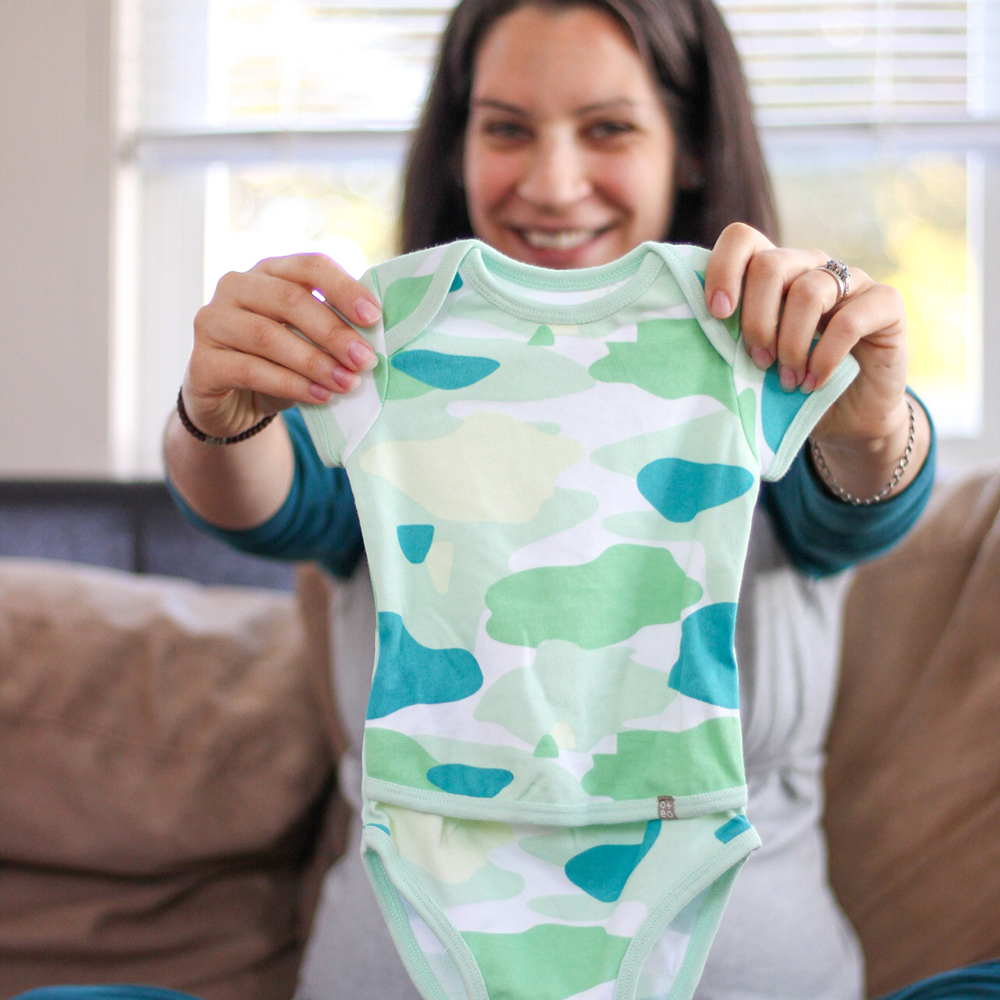 While you're shopping for cozy clothes for your kiddos, don't forget to treat yourself to some new loungewear for yourself! I'm obsessed with this
Majamas
PJ set. It's super soft, warm enough without being hot, and both maternity and nursing-friendly with easy and discreet nursing access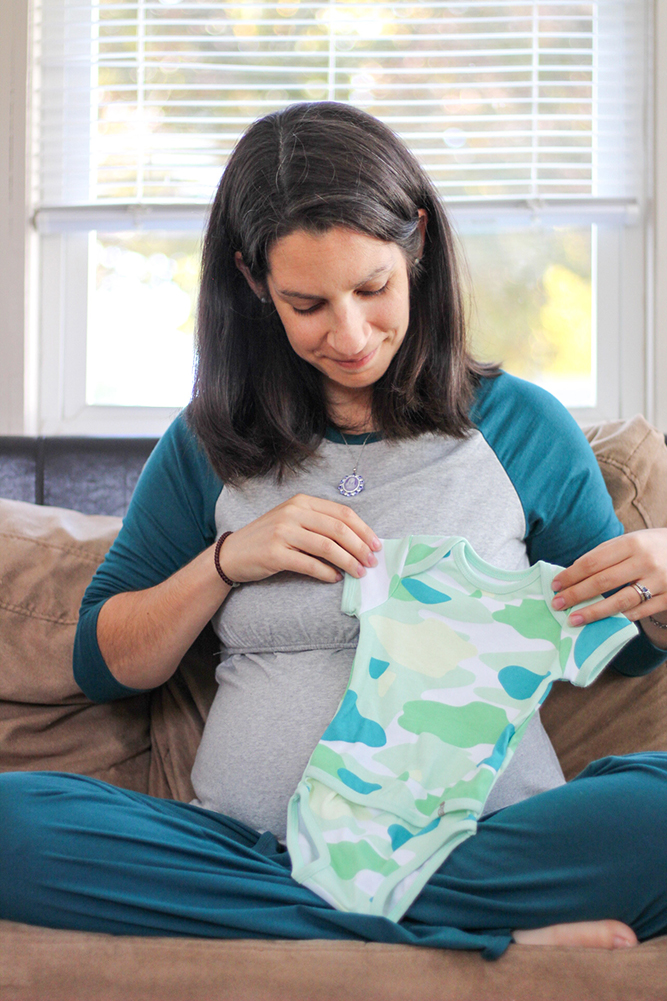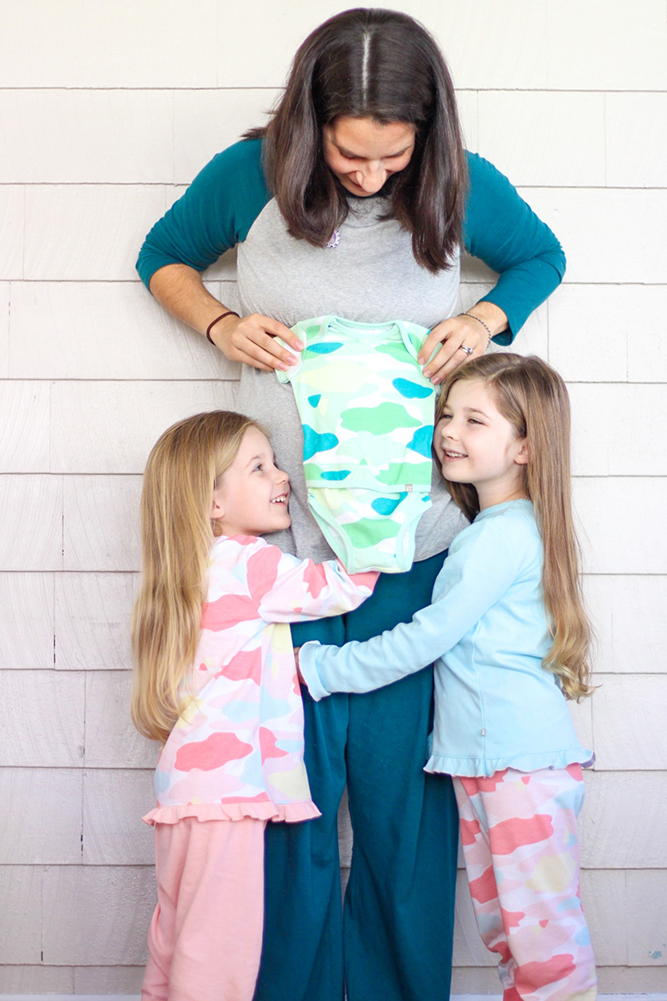 Gift for the Big Siblings (when baby arrives)
Last but not least – don't forget to plan on getting a little gift for the big sister or brother to receive in celebration of baby's arrival! We got some little toys for my oldest daughter when our second child was born as a "gift from the baby," and she thought it was great. I think my girls are old enough this time around that the will know that baby wouldn't actually buy them a gift, but I might still get them something like a puzzle or independent craft to get them excited and keep them busy in our first busy and sleep-deprived days at home.
What other tips and tricks would you add to help prepare big siblings for the arrival of a baby? I'd love to hear your ideas!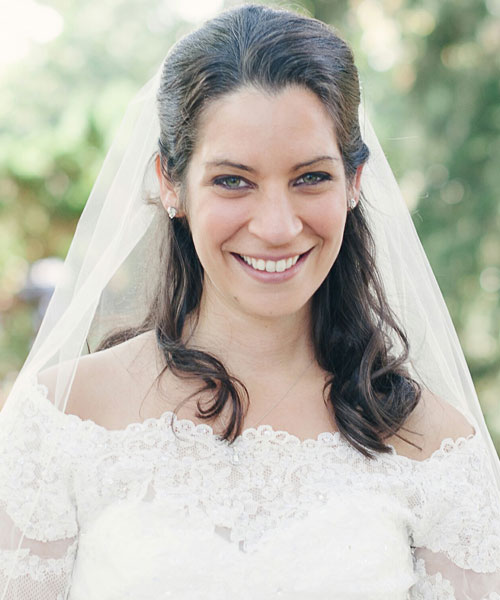 Kendra St. Hilaire