Kiinde Twist Breastfeeding Accessory Gift Set
The Kiinde® Twist system is a revolutionary breastfeeding accessory system that allows women to pump directly into a pouch, and feed directly from the pouch to their baby with no milk transfers, no milk loss and no exposure to germs. This system provides convenience to breast feeding moms who pump, and safety to their babies.

Kiinde's unique Twist system allows you to pump from any pump, store, organize, warm and feed from our innovative bottle and nipple, or any nipple in the market while using the same pouch.

Twist Pouches combine the toughness and leak-proof guarantee of a bottle with the cost-effectiveness, compact size, and convenience of a disposable breastmilk storage bag.

The Twist Gift Set contains:
20 – 6oz Twist Pouches, Direct-Pump, Recyclable Breastmilk Storage Pouches
14 – Twist Direct-Pump™ Adapters (compatible with ALL major pump brands
1 – Twist Keeper™ Breastmilk Storage Bag Holder
1 – Kozii® Breastmilk and Bottle Warmer
2 – Twist Squeeze™ Natural Feeding Bottles
1 – Slow-Flow Twist Active Latch® Nipple with Case
1 – Medium-Flow Twist Active Latch® Nipple with Case
1 – Fast-Flow Twist Active Latch® Nipple with Case
2 – Nipple Cleaning Brushes
Using Twist Direct-Pump™ Adapters, Kiinde Twist Pouches twist-lock onto ALL major pump brands, for leak-free, transfer-free pumping, directly into the pouch. Our leak-proof twist-locking cap keeps your precious milk safe when storing or transporting. Pouches have an easy-to-see labeling surface to shows how much you have pumped.

After pumping, store and organize Twist Pouches using the Twist Keeper™ Breastmilk Storage Bag Holder, which fits in all standard fridges and freezers. Twist Keeper™ allows you to quickly and easily organize your expressed breastmilk storage bags by date. Its universal design fits Twist Pouches, and breastmilk storage bags from all brands.

Thaw and warm your milk directly in Twist Pouches, using the Kozii® breastmilk warmer and bottle warmer. Kozii® uses STEAM-FREE Safeheat® technology, which uses a swirling bath of warm water to safely and quickly warm your baby's meal, while preserving the delicate nutrients and proteins in your breast milk. Kozii®'s onboard water reservoir and auto-shutoff timer mean no adding water with each use, and no risk of overheating.

Feed directly from Twist Pouches using the Twist Squeeze™ Natural Feeding Bottle, eliminating the need to transfer milk from bottles to bags and back again! Just snap the pouch directly into the Twist Squeeze™ Natural Feeding Bottle, squeeze the air out of the pouch, and pop a Twist Active-Latch® Nipple on top! Twist Pouches can eliminate air from your baby's meal, without complicated venting mechanisms.

Twist Active Latch® Nipples are designed to teach and reward deep, wide, natural latching. By requiring suction AND massaging of the nipple, they are designed to discourage "lazy latching", and to ease the transition between bottle and breast.

The Twist system is:
Recyclable
BPA-free, phthalate-free, and PVC-free
Available in 2 pouch sizes: 6oz (177mL) and 8oz (236mL)
Top rack dishwasher safe and steam sterilizer safe for adapters, Keeper™, nipples, nipple cases and nipple brushes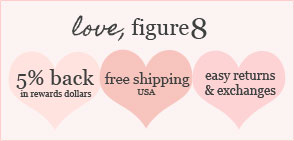 "
H
appy to have found Figure 8. They have a wide range of apparel for the new mother, and I am really happy with my purchases.
"
Heather in Ellicott City, MD
Please wait ...