Body After Baby Angelica Postpartum Recovery Garment
Product Ratings:





(

2

)
---
Product Description
---
Begin wearing immediately after delivery for 8-12 weeks

The Angelica by Body After Baby is for postpartum women that want to reduce pain and recover faster so they can regain the strength they need to actively focus on their new baby. No other products focus solely on the recovery process. At Body After Baby, we believe a comfortable, supported mom is a better mom so start the recovery process today.

Don't wait – improve your postpartum recovery and help that mid-section return faster and more confidently with the Angelica.
Speeds Recovery
Stabilizes weak and stretched muscles from pregnancy and childbirth
Targeted compression promotes circulation and reduces swelling, both of which speed recovery
Supports tummy, hips, and lower back
ObGyn recommended anatomical design focused on recovery
Anatomical crotch panel supports and protects perineal tears and episiotomy incisions
Reduces bloating discomfort

Comfort-Focused
Unique MicroNet™ soft-touch fabric free of harsh chemicals and dyes
Lightweight and breathable MicroNet™ fabric keeps moms cool while recovering
Undetectable and discreet under all types of clothing
Adjustable and detachable shoulder straps
Antimicrobial cotton-lined crotch to keep moms feeling fresh
More Info
---
68% Nylon, 32% Spandex - Latex Free
Hand wash warm is best, but you can also machine wash warm gentle cycle. Hang to dry.
Made in China
Sizing
---
Buyer Comment:
The Angelica postpartum recovery garment is designed to be worn within the first week following delivery. Your garment should fit snug but not be overly tight and be worn for 8-12 weeks to provide the best healing and recovery benefit.

For your convenience use your hip measurement after 36 weeks or your pre-pregnancy pant size prior to delivery. If you have gained more than 35lbs during pregnancy, please add 1 size for proper fit.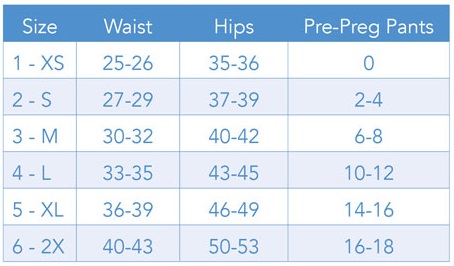 Customer Reviews
---





Reviewed by
A. G. (Auburn, WA)
, 1 year





Reviewed by
E. B. (miami, FL)
, Nursing a newborn