Average Rating:





4.2
/ 5.0 (
9
ratings)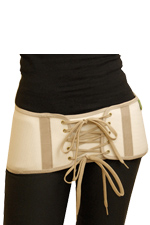 Customer Reviews of HipSlimmer Corset
This product is rated 4.2 / 5.0 in 9 customer reviews.
---
This item is really well made. I've only worn it a week and I've lost an inch around my hips. You can only wear this at home because it is worn over tights and is very bulky. If you wear it properly, (low on the hips- not up to your waist) it is comfortable enough to wear all day and night. Not easy to move around in, but do-able. I recommend wearing it through the night and resting during the day especially if you're very busy. I can't imagine the velcro types would even come close to the sturdiness of this corset.
---
I am now two months postpartum, and can only wear this once in a while. It seems to work, but I am not really sure if my hips spread enough for this. You can definitely feel it in your hips after you take it off, and when you climb stairs. It is not comfortable to sit in, so I only really wear it when I'm cleaning the house or walking around.
---
I haven't had a chance to use it, but have heard good things! This product targets the thighs when I see most target the belly. I noticed as soon as I got pregnant, my hips spread, ugh! I'm hoping this helps. It def seems to be made of good construction and I like that you can cinch it to the right size. Looking forward to using it!
---
Seems very sturdy. Looks like it will work. Very excited to try it. My hips have spread a lot during pregnancy so I may need a bigger size. I hope not though. I will try and get into this size since it matches my pre-pregnancy size. I really hope it works!!
---
Can't comment on use yet as I am still pregnant, but it seems to be very well made and sturdy. It also looks like the slimmer can bring your hip size down 6-7 inches which would more than get me down to pre-pregnancy jeans. Can't wait to use it!
---
Glad I bought the next size up. If you are in between sizes, go for the larger size. Fits well on my hips, excited to try it out after delivery!
---
Very durable - much sturdier than what they sell at babies r us. Doesn't roll up on hips, and I'm very hippy!
---
Rather uncomfortable to wear, so have not used as much as I had thought.
---
Very excited to try out this corset after delivery.
---
---
---
---
---