Average Rating:





4.7
/ 5.0 (
11
ratings)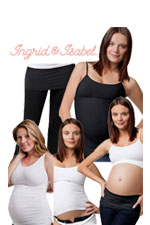 Customer Reviews of Ingrid & Isabel 5pc Maternity Essentials Kit
This product is rated 4.7 / 5.0 in 11 customer reviews.
---
I haven't tried on the camisoles yet, but I've been putting the Bella Bands and the Every wear pants to good use! Once I put the pants on, I don't want to take them off. The bands have been really helpful since I'm still wearing my pre-pregnancy jeans and can only wear them unbuttoned and slightly unzipped.
---
I definitely recommend this product! There's everything you need for your pregnancy. It's high quality material and I find myself not wanting to wear anything else! The tanks may seem tight initially but they stretch a ton and don't lose elasticity in the wash.
---
5 definitely essential pieces. I wear the belly bands every day and the pants are amazingly comfortable. The tank tops will be fitting well soon, I'm sure and for now they are so nice and long, helping to give a little extra hold to my unbuttoned pants!
---
The sizing of the tanks and pants is smaller than I expected. I normally wear a size 10 and I ordered a size 2 as per the sizing chart. The pants and the tanks are very tight. The bella bands are perfect though.
---
I haven't had a chance to try these yet for this pregnancy, but I've had great luck with these products in the past. I just wish maternity clothes weren't so expensive!
---
Just getting to the point where clothes are fitting tight and the maternity essentials adds comfort. However, everything is long and not made for a petite woman.
---
I am thrilled! Everything fits and looks very flattering. This is a great value.
---
I like all the items, but the pants are very long.
---
Love the rose insert, very personal!
---
---
---
---