Average Rating:





4.8
/ 5.0 (
5
ratings)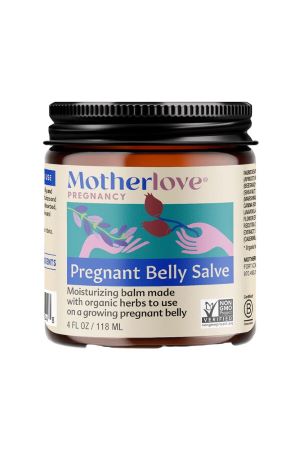 Customer Reviews of Motherlove Pregnant Belly Salve 4oz
This product is rated 4.8 / 5.0 in 5 customer reviews.
---
This salve has been very helpful in relieving itching and painful feelings of stretching skin. The only downfall is that it is slightly oily, but not as much as other products I've used. This will not stain your clothing, as other products I have tried did stain (after you spend all that money, the last thing you want is to get oil spots on your nice new maternity clothes!!) My solution to the oily feeling is to wear a stretchy belly band after applying the salve. This keeps my clothing from pulling on my skin and supports my skin too. My favorite part of this salve is the scent. Other lotions smell like chocolate or mango, etc. and I just can't take the smell! This salve has a lovely light scent that disappears quickly...so I can smell like the fragrance of my choice and not a chocolate dipped mango, ha ha!
---
I love this stuff! Upon touching the salve for the first time it seems very greasy, however! Once rubbed in it leaves no greasy residue and absorbs so nicely! and bonus - i rub the extra on my hands into my cuticles. Not a single unnatural ingredient.
---
A friend of mine told me I should start putting cream on my belly now. I did a lot of research and this product was the most highly recommended. So far so good!
---
Love this product... It helps my belly with itching instantly. It's oily at first but is absorbed very well and makes my skin VERY soft.
---
Excellent. I love the smell and texture. So much cheaper that at Whole Foods. Great. Thank you.
---