Average Rating:





4.8
/ 5.0 (
10
ratings)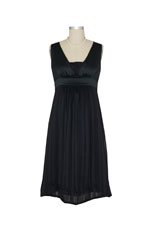 Customer Reviews of Ripe Ribbon Chiffon Maternity Dress
This product is rated 4.8 / 5.0 in 10 customer reviews.
---
This dress is a very nice quality! I am using it as a bridesmaid dress where all the girls will be wearing black J Crew dresses, this dress is definitely the same quality and style and fits much better. I originally went with an empire waist J Crew dress that just looked awful...since it wasn't cut for maternity, I kept going up in sizes only for the dress to get more tent like and terrible looking. Once I got this dress, I felt so relieved that I had a nice maternity option that looked good and made me feel great!! Nice quality fabric too, most maternity dresses are jersey material which is really comfy but not good for a formal affair or bridesmaid dress. LOVE it! Would definitely buy again and from this retailer too.
---
From the front you don't look pregnant due to the vertical stripes, and it is flattering from the side and back too. Very pretty color. A sweet, versatile item when you want to get a little dressy or have a special event. Does not feel like a maternity dress!
---
Very cute! Bought it for a wedding but ended up not wearing it because it was cold and rainy, but will definitely keep it because it is sooo cute and pink! It will be perfect for a baby shower or nice dinner out.
---
Ordered this dress for my baby shower and received lots of compliments! A little big in the bust, but I am small busted. Shade of pink is closer to a mauve rather than bubble gum pink, but still pretty!
---
I wore this dress as a bridesmaid in a wedding. I got lots of complimenets. It was very comfortable and as flattering as a dress can be at 8 months pregnant!
---
Very pretty but ran small. I ordered a medium and could not get the zipper up. I was a size 8 pre-pregnancy.
---
True to size and fits great!!! I'm wearing this to a wedding and am so happy with my purchase.
---
Very pretty shade of pink. Delicate and perfect for a baby shower or other special occasion.
---
Beautiful dress and great material. Very complimentary. makes me feel beautiful!
---
Excellent quality, beautiful color. Will be worn to a wedding rehearsal dinner.
---
Bought it for my baby shower. It was perfect and everyone loved it.
---
---