Average Rating:





3.9
/ 5.0 (
10
ratings)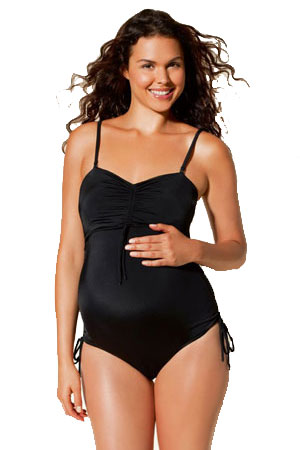 Customer Reviews of Boob Fast Food Nursing Swimsuit
This product is rated 3.9 / 5.0 in 10 customer reviews.
---
This swimsuit is ok. Material is very thin and see-through. It's doubled up over the top so you can nurse comfortably without having your entire breast hanging out. You can see the outlines of all of my tattoos and I'm afraid that if I happen not to do my ladyscaping, you'll be able to see that as well. Not very good nipple padding, so if you tend to point, it isn't good. There isn't good support for and saggy postpartum bellies either. It serves a purpose though, allows for easy, comfortable nursing. Would be good with a coverup. I'm currently 5' 5", 185lbs, and a 38D and ordered a large. It fits well (not too tight, won't fall off either) and there's a little extra wiggle room.
---
The Boob Fast Food Nursing swim suit is very forgiving. It took a while to wiggle it over my enormous belly, but once I got it over, the suit is very comfortable. I like the option to adjust the leg length and cleavage dip too. When I first put it on it wasn't very flattering, but once I took the legs up and dipped the cleavage it's way cuter. I ordinarily wear a medium in Boob clothing and have a 36D chest. I purchased the medium in the swimsuit too and it fits over my 9 month belly. I'm sure the side ruching helps!
---
Really beautiful suit, stylish yet modest at the same time. The best nursing swim suit I have found. With the adjustable ties at the hips and chest I feel I can make the suit look cute throughout pregnancy and nursing. I only wish it came with interior pockets for inserting and removing padding in the chest (soft molded cups), this would really come in handy while pregnant (for modesty, support, and shape) and would likely help while nursing too (for nursing pads). Thanks.
---
Bad-no support or shape to breasts. It felt like I needed to wear a bra underneath. Also, half my behind was sticking out of the sides of the bottom-cut skimpy on bottom. Good-nursing openings lift up which would allow for easy breastfeeding without exposure. I returned it because it didn't look good or fit right-unflattering.
---
I loved the idea behind this suit. Nursing in it would have been super easy. However, it did nothing for my figure and provided no support for my large breasts (34F). No matter how I adjusted it I looked like a large lump. I think this would be great for someone with smaller breasts - probably no bigger than a C cup.
---
Very flattering and comfortable suit. I was able to discreetly and easily nurse while sitting on the beach. If on the fence about choosing a size - I would recommend going with the smaller size since the ties make it highly adjustable.
---
The adjustable portions were nice, but the dangling strings drew attention to my hips and thighs (added width; no thank you) Also, I have a longer than average torso and the suit didn't fit well.
---
So far the suit is great. Very easy to nurse discreetly. The fabric appears to be a little thin otherwise I would have given 5 stars.
---
Love the color and fit. Wish it was padded a little up top but overall I am happy with this purchase.
---
Fits well, only change I wish there was padding in the top for better shape/support.
---
Not a lot of support in the chest but a cute design.
---
---