Average Rating:





4.4
/ 5.0 (
13
ratings)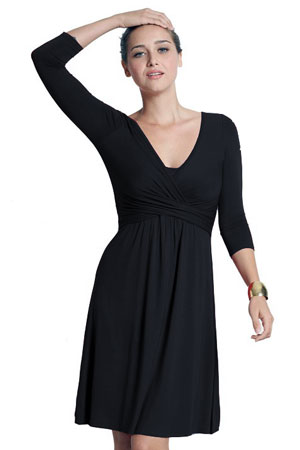 Customer Reviews of Ava 3/4 Sleeve Wrap Maternity & Nursing Dress
This product is rated 4.4 / 5.0 in 13 customer reviews.
---
I'm 5'5" and currently 160 lb at 7 wk postpartum, with a small bust at baseline that is much, much bigger currently. I bought three different dresses to try to wear to a winter wedding, and this one was the winner by a lot. The wraparound/V neck and the way the fabric is gathered at the empire waist really helped to minimize the giant boobs and postpartum tummy. The fabric is also a bit thicker than the other two dresses I tried. Very versatile - I will be wearing this to work as well. My only complaint is that the nursing cutouts in the bottom layer were located way over to the sides, so actually nursing required a bit of maneuvering between the two dress layers and nursing bra - not a big deal for me, but might be for others.
---
I bought this for a wedding with the hope that I could wear it to work as well, and it's perfect! The inner panel for nursing is so convenient and easy to work with. I have to pump twice a day at work, and then nurse at lunch, and this is now the easiest outfit I have to nurse in no matter what kind of bra I wear with it. The material is light but still heavy enough that it maintains its shape, and while it's a little form-fitting, it doesn't emphasize my post-baby tummy.
---
I love this dress and look forward to wearing it in my pregnancy and beyond for nursing as I will deliver just before the holidays. It is flattering to my left over baby bulges from other pregnancies. My only complaint is that the edge of the material from the underneath nursing layer is detectable across the bustline. I still plan on wearing it however. For reference I am 5'4" and 160 prepregnancy weight.
---
I bought a size small and fit is true to size, a great versatile dress, nice substantial fabric. For reference I'm 116#-lost most of my baby weight, approx 5'4" and bust is a 36 c-d cup since am nursing!
---
Love this dress. I wear it to work so that I can pump without taking all of my clothes off. It works in my professional setting and doesn't look like maternity or nursing wear.
---
One of my co-workers recently lost weight and asked where I got this dress because she wanted one... that is how much it does not look like a maternity/nursing dress.
---
This particular dress was very hard to use and fit properly. I since ordered a different dress and it's slightly snug but works amazingly for nursing.
---
Soft, stretchy material allows for easy nursing access. Love the stylish cross-front detail as well!
---
Lovely dress. A little overpriced but I am glad I purchased it as it is slimming and a nice color.
---
Beautiful color and comfortable fit, but a bit too dowdy for my taste. Returned.
---
great fabric very comfortable but chic at the same time.
---
---
---
---