Average Rating:





4.0
/ 5.0 (
3
ratings)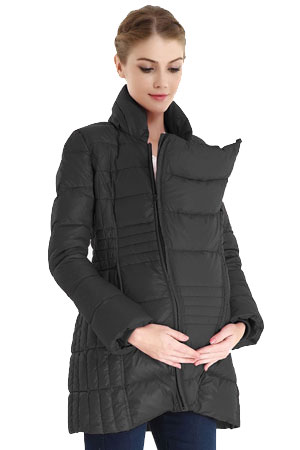 Customer Reviews of Bella 3-in-1 Down-Filled Mommy & Me Jacket by Spring Maternity
This product is rated 4.0 / 5.0 in 3 customer reviews.
---
The sale price enticed me to go ahead and buy this jacket in summer, as I anticipate my January due date in Minnesota. (I'd spend $250+ easy to get a warm regular down jacket, so under $100 for a down 3-in-1 seemed like a good deal.) I've seen preggo friends struggle with winter pregnancies, with unzipped husband coats and being cold. If you can't be comfy outside then you're housebound during pregnancy & early postpartum: no thanks! I want to be able to take walks while hugely pregnant & with tiny newborn in a wrap carrier under this jacket. You can't stroller and walk in the snow with a tiny baby. (And I'd rather walk around my block than drive to inside a mall!) This jacket covers the butt: important! and it seems like it will cover the bump great (I shoved a pillow on my bitty bump to test it.) It is a bit short in the arm length. The zippered triangle is easy to use & flip around for both bump & baby. The jacket arrives compressed in a cute little sack, so it's a very squi
---
I returned this one -- it fit perfect, the extra panel makes it extra baggy though (for baby, of course). The black color is much shinier and darker than in this photo and did not look good on my skin tone.
---
It is still summer so I have not had a chance to use this in the snow but I absolutely love the way it fits. It is lightweight but still seems to keep a lot of heat in.
---