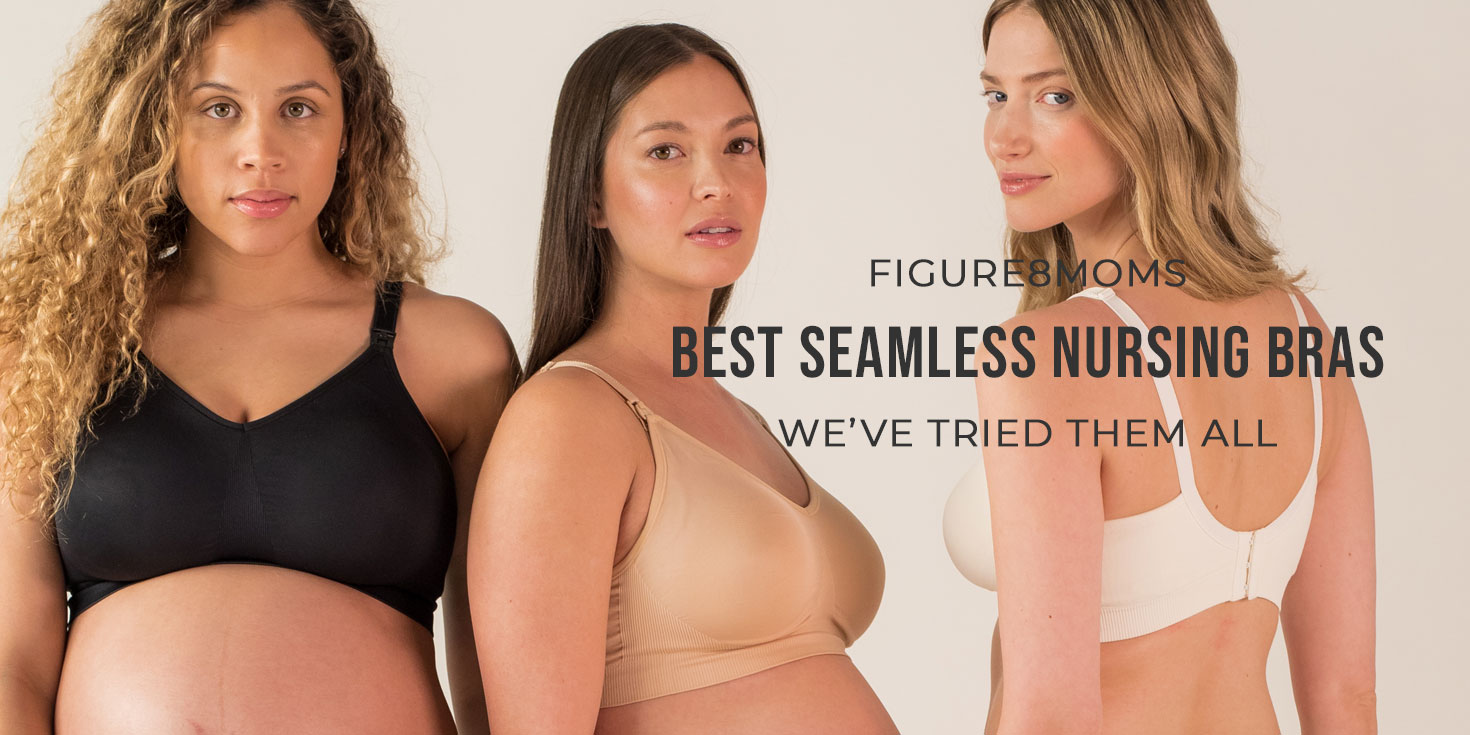 Best Seamless Nursing Bras 2021 - The Most Comfortable from Day 1
Why do we recommend that every new mom begin with seamless stretch nursing bras?
Flexible sizing, easy nursing access & ultimate comfort
Your breast size will change considerably during pregnancy and the early months of nursing. Seamless stretch nursing bras adapt to your changing size. They are usually alpha sized (S, M, L... not 36B, 38D...). You can even start wearing these during pregnancy when your regular bra starts feeling tight. These nursing bras have stretchy cups that keep your comfortable through breast size fluctuations. They are best bras to wear when you are grappling with engorgement and soreness as they do not compress your breast tissue.

Seamless nursing bras come in padded and unpadded versions. For the majority of moms, we recommend drop open style nursing access for maximum skin-to-skin contact with your newborn. For moms with small busts, the pull aside bralette on our list makes an easy beginning as well. Some seamless nursing bras feature an inner nursing frame or inner sling for support. This is a good option if you have a fuller bust and desire more support, or if you want more coverage when nursing.
The Best Overall Everyday Nursing Bra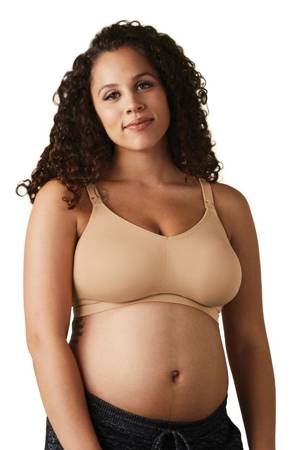 WHAT YOU NEED TO KNOW
SUPPORT
FEATURES
Removable Foam Pads
Drop Open Nursing Access
4-Way Seamless Stretch Fabric
Wireless
Widest Size Range(band 30-46, cup A-J)

FABRIC
88% Polyester 12% Spandex
Standard 100 by OEKO-TEX® Certified: Fabric free from harmful substances
WHY WE LOVE IT
Also known as the most comfortable nursing bra in the world, this is the bra we recommend every new nursing mom to start with. It's very easy to nurse in this bra. The extremely flexible cups flip open to give you good skin-to-skin contact with baby. The silky, seamless 4-way stretch fabric melts to your curves and adjusts to your fluctuations in size and fullness. Removable pads give you a clean shape under t-shirts without too much bulk.
Turn it into a hands-free pump bra with the
Clip and Pump™ Hands-Free Nursing Bra Accessory.
The Best Organic Seamless Nursing Bra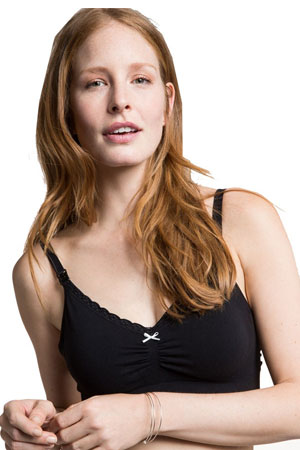 WHAT YOU NEED TO KNOW
SUPPORT
FEATURES
Unpadded
Drop Open Nursing Access
Wireless
Seamless Organic Cotton

FABRIC
79% Organic Cotton 15% Polyamide 6% Elastane
Standard 100 by OEKO-TEX® Certified: Fabric free from harmful substances
WHY WE LOVE IT
This bra offers nursing moms the best of both worlds – seamless stretch comfort and the softness and breathability of organic cotton. There are only a few seamless organic nursing bras on the market, and this one is the softest and has the highest cotton content. It is unpadded so it is very breathable. If you are suffering from cracked or sore nipples, or thrush, organic cotton is the best fabric to chose.
The Best Seamless Nursing Bralette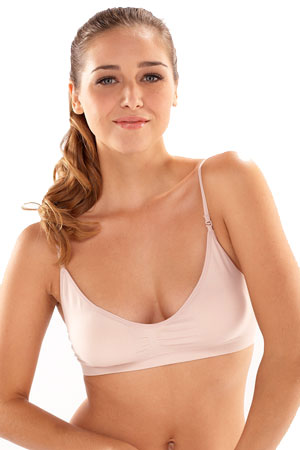 WHAT YOU NEED TO KNOW
SUPPORT
FEATURES
Removable Foam Pads
Pull-aside Nursing Access
Wireless
Soft Seamless Stretch Fabric
Pull-over style (No back hooks)

FABRIC
78% Nylon 18% Cotton 6% Spandex
WHY WE LOVE IT
This buttery soft stretch bralette is so lightweight you barely notice you're wearing it. It provides light support, like a gentle hug. There are no clips to open and no hooks in the back. Simply stretch the front of the bralette up or down for nursing access. You can wear it with low necklines and its removable foam pads provide shaping and coverage. It's ideal for sleep and for A-C cup moms who crave a minimalist bra.
More Expert Mom-Shopper Tips on Seamless Nursing Bras
While only one seamless nursing bra could occupy our best overall seamless nursing bra spot, we are ardent fans of this style of nursing bra and have tried heaps of them from every maker around the globe. Here are a few other well-loved seamless nursing bras that you should not miss. They all are extremely easy to nurse in and feel fantastic on. We've highlighted the distinctions between them that hopefully will make choosing the right one easier for you!
The Best Seamless Nursing Bra for Lower Necklines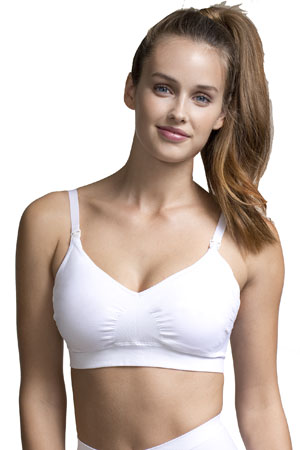 This nursing bra features a slightly lower neckline than other seamless nursing bras in our collection, which means it's compatible with most v-neck tops! It also features an inner nursing frame, with a cut out hole for your boob. This provides support for your boobs while nursing and also extra discretion as less of your boob is exposed when the cups are open. This also means less skin-to-skin contact with baby.
The Racerback Seamless Nursing Bra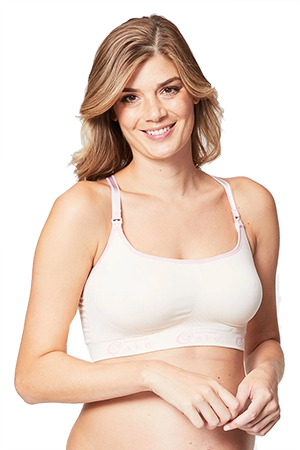 What's distinctive about this seamless bra is its sporty T-back and double-layered side sling design. The pull-over T-back provides extra lift and is comfortable for sleeping. The double-layered side sling supports your breasts when your cups are open for nursing but still allows for lots of skin-to-skin contact with baby. This bra is unpadded.
Also available with removable pads and regular back:
Cake Lingerie Rock Candy Sleep & Yoga Maternity & Nursing Bra