Hegen - Pump, Store & Feed with One Revolutionary Baby Bottle
Hegen's revolutionary PPSU PCTO™ bottle allows you to Express, Store and Feed within a single container by simply swapping the bottle's feeding head, storage lid and adapter to convert a feeding bottle into a breast milk storage container or pumping container without any transfer of milk. This minimizes wastage and reduces mess, making every drop count to promote seamless and sustainable breastfeeding.

Airtight and leakproof when using Hegen's PCTO™ storage lids, the Hegen bottle grows with your child as it can be used for other storage needs. With the world's first patented no screw thread closure, the Hegen PresstoClose, TwisttoOpen (PCTO™) innovation allows the bottle to be pressed on and twisted off conveniently with zero spillage.

Its practical "softsquare" bottle design has a myriad of benefits – easy grip, space-saving, and hassle-free cleaning. Ergonomically shaped to be easier for babies to hold, the world's first stackable feeding bottle nestles together when empty and stacks neatly when filled, optimizing storage space in the freezer or a mother's bag. The smooth interior surface, wide bottle opening and minimal parts make cleaning exceptionally easy.
---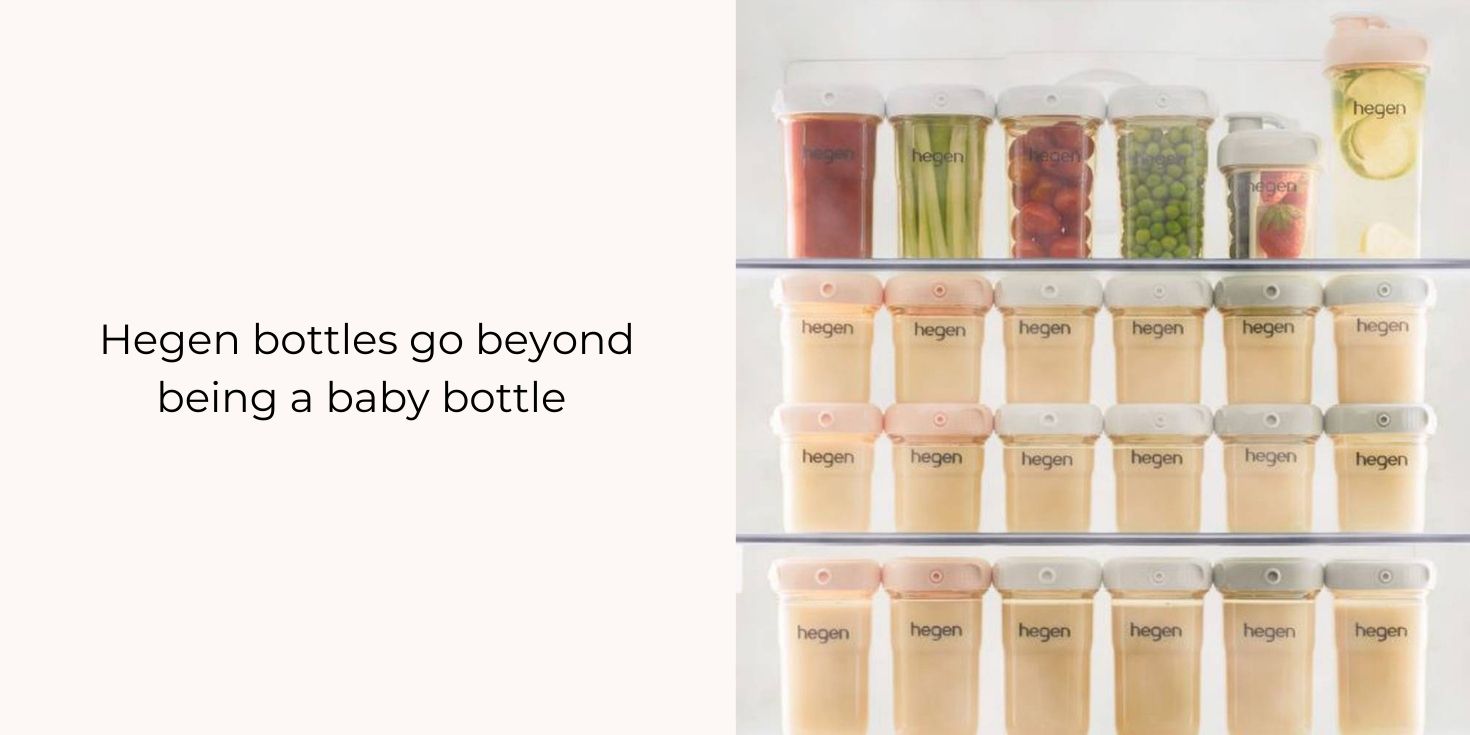 Hegen's Truly Sustainable Bottle Grows Up with Your Baby
Throughout your baby's journey, Hegen aims to complement as a trusty companion that grows with your child. While most feeding bottles are recommended to be replaced every 3 to 6 months, Hegen bottles are built to last. They are happy to be repurposed as stackable storage containers and water bottles down the road.
How does Hegen allow me to pump, store & feed in one bottle?
Simply swap the top - pump or adapter, storage lid or feeding collar. No wasteful transfer of milk ever.
Why are Hegen bottles square?
Beyond cool aesthetics, Hegen's soft square shape makes them easy to hold and keeps them from rolling away. They can be stored nested and save space in your refrigerator and diaper bag. The bottle's wide mouth and smooth lines makes for easy cleaning.
Why is the Hegen teat off-center?
Designed to closely mimic a mother's lactating breast, Hegen's elliptical-shaped and super soft silicone teat minimizes nipple confusion so combining breast and bottle-feeding is seamless. The off-center teat allows your baby to feed in a natural upright position, similar to a position in which babies are nursed to reduce the risk of milk back-flow and the resulting mid-ear complication and colic; while the built-in anti-colic air-vent further prevents bubbling of milk and saves precious nutrients from oxidation.
What kind of plastic are Hegen bottles made of?
The Hegen PPSU (Polyphenylsulfone) range is made of FDA compliant food-contact grade and NSF certified medical grade material. PPSU is widely used in the manufacturing of medical appliances due to its superior toughness and high temperature resistance.
PPSU combines the advantages of glass and plastic
Free of BPA, BPS, Phthalates & PVC
Naturally Amber-colored, no artificial pigments
Lightweight, Tough, Temperature Resistant
FDA compliant, Food-contact Grade
NSF certified Medical Grade
Dishwasher-safe (Top Rack)
Figure 8 Moms is rated





@google
and
@figure8moms