Average Rating:





4.1
/ 5.0 (
8
ratings)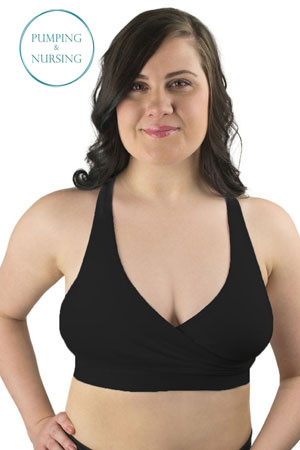 Customer Reviews of Rumina Hands-Free Pump&Nurse™ Racerback Bra
This product is rated 4.1 / 5.0 in 8 customer reviews.
---
I wanted a bra that could easily give access for nursing and pumping, and it did one of those things only ok. Both aere difficult because there are two panels that you have to move aside and when you do, it's off-center from my nipples. For nursing I just end up pulling the bra down off me completely. For pumping, again off-center from nipples so I'd have the pump pulling my breasts apart and making it uncomfortable to pump. It did make it hands-free, but it was awkward. The bra also doesn't fit correctly for me. I'm a 36D or 34DD and the large was too small around my chest (wouldn't lay flat) and too small around my breasts. The medium was even worse. Because there's also a lot of material, it was sweaty. I live in the desert, it's just too hot to use. I think the bra is severely overpriced for what it is, and after just one wash the material is distorting and stretching - particularly on the racerback straps. Just terrible quality for the price, and the measurements are incorrect.
---
I like this bra except for the crossover seam that passes right by my sore nipples. Also the opening for the pump phalanges is all the way over at the side. You have to really maneuver the phalange to pass it through and run the risk of it rubbing on your sore nipples. The bra fits like a very comfortable sports bra otherwise. I ordered 3 and have been wearing them everyday since they arrived. For nursing I just pull the bra down.
---
I purchased for the end of pregnancy and hope to use when nursing and pumping. Fits well, slightly snug at the end of the day. I purchased a size small, and plan to get a medium to allow more room to grow and to sleep in. I like that this bra is comfortable like a sports bra, but the criss cross pattern still gives me a shape.
---
Allows me to nurse on one side and pump on the other at the same time and still have my hands free. I wear this ever single day.
---
Item fits well. Even after a long day it is not uncomfortable. The color is more orange than red.
---
Less comfortable than the classic crossover. The straps dig into your neck/shoulders.
---
Wish I had more. Love it.
---
---