Average Rating:





5.0
/ 5.0 (
6
ratings)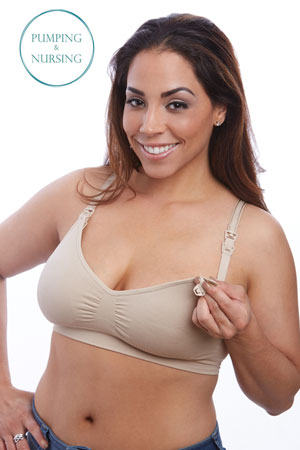 Customer Reviews of Nourish by BeliBea Seamless Nursing and Hands-Free Pumping Bra
This product is rated 5.0 / 5.0 in 6 customer reviews.
---
Extremely satisfied with purchase. I hated hanging bras just to pump and this bra is the perfect solution! There is padding, but it's removable. I personally like the padding and was specifically looking for a bra with that coverage. The material is soft, stretchy, and comfortable. To nurse, you unclip bother layers of the bra. To pump, you unclip both layers to get the pump flange in place, then reclip the pump layer. Holds pump in place well. I almost wish the pump layer was just the slits that you can slip the flange in without unclipping because that way, you can remove the flange with the rest of the pump parts still attached and capture whatever residual milk was in the flange, but that is a personal preference since my supply is low. Sizing is true to size. I would highly recommend this product to anyone looking for a combination nursing and pumping bra.
---
Absolutely love this bra! I have it in black as well and loved it so much I had to get another one. It arrived to me very fast too! I wish I had this bra when I was nursing and pumping with my first son. It saves so much time with the pumping bra built in - instead of needing to strap on another bra. I am able to work and pump simultaneously. I highly recommend this to any nursing mama - especially if you are pumping!
---
I'm exclusively pumping for my daughter and this bra is amazing! I was in search for a bra that would both serve as a bra and a hands-free pumping bra and this was just exactly what I was looking for. No more switching from a regular bra to pumping bra for me!
---
Perfect for the working mom who has to pump at work. No need for additional pump bra. Plus this is super soft and comfortable. I bought one and loved it so I bought another!
---
---
---